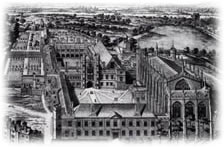 History
Eyton or Eytun (as Eton was originally named) was probably established between the 7 th and 10 th centuries, but the town's life was altered forever when Eton College was founded in the 15 th century by King Henry VI. Set against this fine historical lineage Martin (Eton) Limited can lay claim to be one of the oldest purveyors of transport related devices in the UK. Formerly situated in a 17 th century building in the middle of Eton High Street we began in 1796 selling horse drawn carriages. In 1875 the emphasis shifted to building and selling bicycles and in 1908 we sold our first motor car, a Ford, a brand we still specialise in today.
Present Day
In 1956 Martin Harrison took over the running of the dealership and imposed his expertise to turn the dealership into a friendly, family run business based on honesty, reliability and, above all, personal service. Today, the dealership is run by his son, John, who, with 25 years of Ford experience, is carrying on the family tradition with a back-up team of many years experience to help him.
We pride ourselves on the amount of repeat business we do in the local area, especially with Eton College staff. This encompasses from giving competitive quotations through to demonstrations and after-care service. We also make sure that we sell the right product and specification to meet the needs and profile of our customers. We have access to stock of over 8000 used vehicles, including Ford Direct.
As well as being able to supply the complete range of new Ford passenger cars and light commercial vehicles, we hold used vehicles of various makes and models. Whilst this stock is predominantly Ford we also specialize in prestige used marques such as Jaguar, Mercedes Benz,, Bentley and classic cars.
Service Department
Nigel Weightman is the longest serving member of staff having been with us since 1974, and he has held the post of service and after-care manager since 1986. Nigel runs the dedicated service team and over the years has built up a very good relationship with our customers.
Our service department is equipped with the latest diagnostic equipment and special tools, and can cater for all types of repair and service on most makes and models of cars and light commercial vehicles, including the prestige makes that we specialize in. In addition we maintain and repair vehicle air conditioning systems and will book MOTs on behalf of customers. Finally, we collect and deliver your vehicle within a 10 mile radius, free of charge.