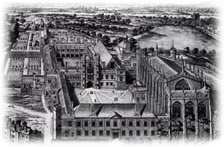 Eyton or Eytun (as Eton was originally named) was probably established between the 7 th and 10 th centuries, but the town's life was altered forever when Eton College was founded in the 15 th century by King Henry V1. Set against this fine historical lineage Martin (Eton) Ltd can lay claim to be one of the oldest purveyors of transport related devices in the UK. Situated in a 17 th century building in the middle of Eton High Street we began in 1796 selling horse drawn carriages. In 1875 the emphasis shifted to building and selling bicycles and in 1908 we sold our fist motor car, a Ford, a brand we still specialise in today.
As well as being able to supply the complete range of new Ford passenger cars and light commercial vehicles, we hold a stock of 30/40 used vehicles of various makes and models. Whilst this stock is predominantly Ford we also specialize in prestige used marques such as Jaguar, Rolls Royce and Bentley. Additionally, we have access to over 1,000 used vehicles held by Ford Direct. So, whatever you are looking for, we are able to help.
The dealership today is run by John Harrison. John and Tony Owen are here to assist with all sales enquiries and to arrange demonstrations and we export world-wide if necessary. We believe in total clarity with the customer. "So many salespeople at a dealership will tell the customer that they can obtain a certain model then go back later and tell them that it's not available but we are completely honest" says John Harrison. "If a car isn't available or we don't think the model the person wants will suit their requirements, we will tell them and suggest an alternative car instead". Above all, we offer free advice and assistance .
Nigel Weightman oversees the workshop and will be happy to help you with all your service requirements. Our service department is equipped with the latest Ford diagnostic equipment and special tools, and can cater for all types of repair and service on most makes and models of cars and light commercial vehicles, including the prestige makes that we specialize in. In addition we maintain and repair vehicle air conditioning systems and will book MOTs on behalf of customers. Finally, we can collect and deliver your vehicle within a 10 mile radius.
For good old-fashioned courtesy we don't believe we can be beaten.